Eclipse 5 Portable Oxygen Concentrator features a 3-liter portable oxygen machine that can charge from a DC power source such as a car, boat, or recreational vehicle while simultaneously delivering oxygen. It is designed with both a continuous flow oxygen output option as well as a pulse volume option. Its continuous-flow option provides doses from 0.5 to 3.0 liters per minute (LPM), allowing users more flexibility to participate in daily activities and maintain their active lifestyles. Portable Oxygen Machine is easy to operate, control, and designed to offer low-maintenance requirements. Eclipse offers a continuous flow oxygen output as well as a pulse volume option.
What does Eclipse 5 Oxygen Concentrator include?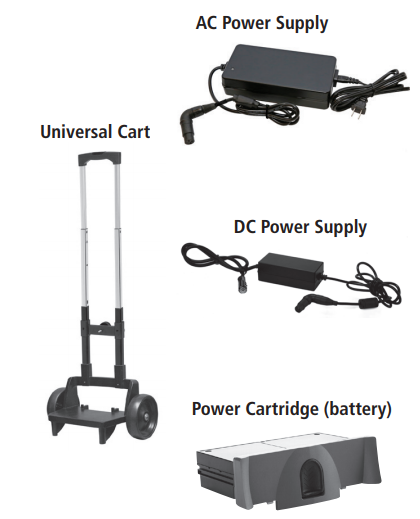 Portable oxygen concentrator
Power cartridge (battery)
AC power supply
DC power supply
Removable cart
Accessory bag
Nasal cannula
CAIRE Eclipse 5 Portable Oxygen Concentrator Benefits for Patients
In the car – all flow rates available and battery will recharge 2 LPM
2 hours battery at 2 LPM with single battery
Over 5 hours of battery duration at 2 pulse
Removable rolling cart with adjustable handle
Eclipse 5 Oxygen Machine Benefits for Clinicians
Adjustable sensitivity
Adjustable bolus rise time
Bolus sizes up to 192 mL
Highest pulse dose of any concentrator
Ideal for pulmonary rehab patients
Eclipse 5 O2 Concentrator Features
Gives users the freedom to travel and enjoy life on the go
Suitable for use 24/7 use
all-in-one oxygen therapy device can provide pulse doses up to a setting of 9
18.4 lbs. with battery
FAA approved for use on a commercial airline
Proprietary autoSAT technology
Intended for the administration of supplemental oxygen. The device is not intended for life support nor does it provide any patient monitoring capabilities.
Compatible with many leading CPAP and BiPAP devices used for sleep apnea in the continuous mode
Eclipse Five control panel provides a display of either mL or LPM allowing for a more accurate prescription dosage. While in pulse mode if a breath is not detected the oxygen concentrator will activate the continuous flow.
O2 Concentrator offers a comprehensive dosing selection – thereby broadening the patients that can be treated with oxygen therapy at rest, sleep, exercise, and altitude.
Breath detection technology searches for a breath every 15 seconds.
Accessory options support an active lifestyle
Eclipse 5 replaces the old Eclipse 3 Portable Oxygen Concentrator
Lightweight and small to accommodate easier travel
Longer service intervals with lower maintenance costs
Low noise output for less disturbance
Settings for both pulse volume and continuous flow
Simplifies the patients; continuum of care with one device
Eclipse 5 Portable Oxygen Concentrator Parts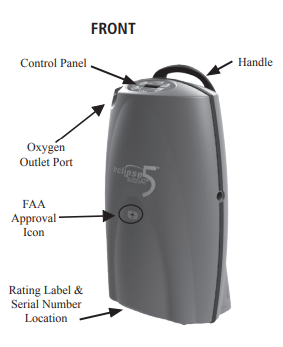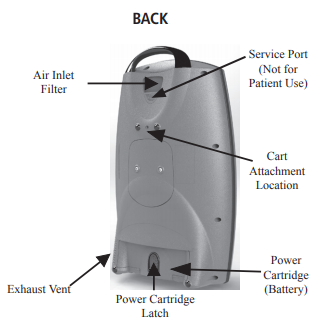 Eclipse 5 Accessories
Power Cartridge (Battery)
AC Power Supply
DC Power Supply
Cart
Desktop Charger
Protective Cover
Travel Case
How to clean Air Inlet Filter?
Cleaning the air inlet filter will keep your Eclipse 5 performing properly. Check this air inlet filter daily and clean it at least once a week using the following procedure –
Remove the air inlet filter
Wash the filter in warm tap water using a mild soap detergent solution
Rinse the filter thoroughly with clear tap water and squeeze out the excess water
Allow the filter to air dry
Reinsert the filter in the cabinet. Note – The air inlet filter should be replaced annually. If Eclipse 5 is used in a dusty environment, the filter may need to be replaced more frequently. You should not operate the Eclipse 5 without an air inlet filter installed for more than 5 minutes.